Portable Medical Shelters & Mobile Field Hospitals
BLU-MED Response Systems® (BLU-MED) is the World's Leader in Deployable Medical Facilities™ and Field Hospitals
Our portable medical shelters and mobile field hospitals enable governments, communities, response agencies, relief organizations, and emergency management to rapidly respond to small and large-scale disasters and emergencies with scalable, self-contained, and temperature-controlled medical facilities when and where needed™.
Our deployable field hospitals and military-grade medical shelters ensure a safe, clean environment where advanced-level healthcare can be given in any climate for extended periods of time. BLU-MED offers customized supply and equipment packages, allowing our rapidly deployable medical facilities to be used for a wide range of applications.
Do you have an urgent need for portable medical shelters, isolation units for COVID-19, or mobile field hospitals?
BLU-MED Medical Facilities are used for:
Level-1 to level-3 field hospitals

Alternate care sites and hospital surge capacity

Mobile healthcare facilities

Mobile surgical facilities

Mobile trauma and wellness centers
Deployable morgue systems

Emergency operation centers, or command and control centers

Disaster and emergency relief shelters

Negative pressure isolation rooms and treatment facilities for infectious airborne diseases, including Coronavirus (COVID-19)
Respond to disasters and emergencies with rapidly deployable and self-contained medical facilities. The BLU-MED EXT™ Medical Trailer System gives first responders and medical teams the ability to arrive on the scene and quickly establish medical facilities without the need for fuel or power sources.
Now available for rent and purchase!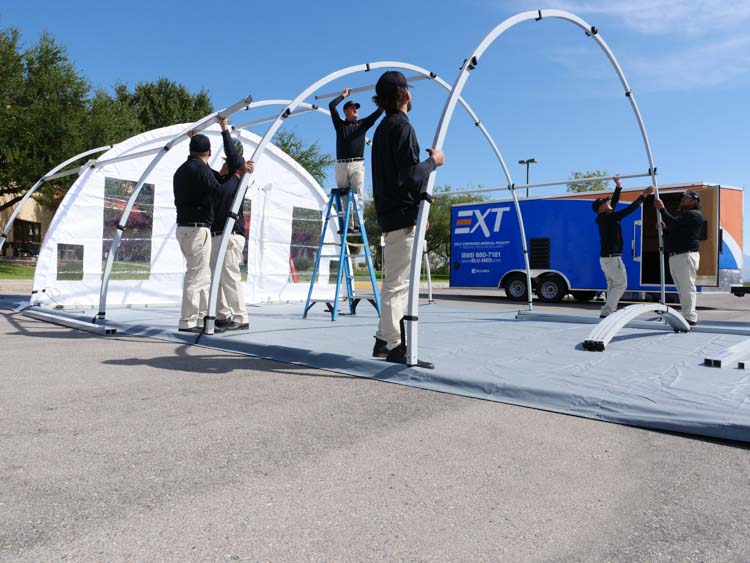 BLU-MED EXT™ Medical Trailer System
Designed to quickly respond to emergencies without reliance on nearby power or fuel, the BLU-MED EXT™ Medical Trailer is a customizable, self-contained system that includes:
14' or 20' trailer system with built-in generator and fuel tank
Rapidly deployable medical shelter with carry bags
Vinyl flooring, HVAC system, & plug-and-play lighting/electrical system
Negative pressure isolation system (20' medical trailer only)
Ward beds or acute care beds with privacy curtains
WHAT WE DO
BLU-MED Medical Shelters and Support Systems
Custom designs, modern medical shelters, and field hospitals for commercial, military, and emergency response situations.
BLU-MED Response Systems®, a division of AKS Industries, Inc., offers many customized healthcare packages for outfitting each mobile hospital facility or portable emergency shelter with essential medical equipment and supplies, logistics services for arranging shipping and transporting of supplies, equipment, and other goods in response to emergencies and disasters, as well as technical consulting services regarding the design and implementation of mobile hospital, emergency shelters and mobile command centers for use in emergency and disaster response.
BLU-MED Response Systems®
301 Rea Blvd., Suite 103
Las Cruces, NM 88007
USA
Toll Free: +1888-680-7181
Local: +1-425-749-2795
NEWS AND INFORMATION
Learn How Blu-Med Medical Facilities are Being Used
The latest information about BLU-MED medical shelters, mobile field hospitals, and related services.