The BLU-MED XP Medical Shelter System is a revolutionary advancement in shelter technology. Able to be deployed and fully set up in less than 15 minutes, the BLU-MED XP Medical Shelter gives government agencies, nongovernmental organizations (NGOs), cities, municipalities, hospitals, emergency management services, and first responders the ability to quickly respond to disasters and humanitarian crises around the world.
Rapidly Deployable Medical Shelters for Emergency and Disaster Response
The BLU-MED XP Medical Shelter System is the culmination of decades of proven design and engineering expertise. At 20' wide, a variety of lengths, and a peak height of 10', the modular design of the BLU-MED XP Medical Shelter System enables rapid deployment to provide life-saving medical treatment…when and where needed.™
Key benefits of the BLU-MED XP Medical Shelter System include:
Ability to install on virtually any level surface
Minimal tool requirements
Hinged arches for rapid assembly and fast take down
Weatherproof and climate-controlled interior
Engineered for high wind and snow loads, allowing for year-round use
Lightweight and low-cube design for easy storage and transport
Scalable medical shelter and field hospital configurations (up to 300 beds)
Mobile Medical Facilities Designed for Unparalleled Mobility
Single or two-person carry bags, as well as forkliftable, stackable, and reusable rotomold containers, facilitate rapid mobility. BLU-MED mobile medical facilities can be transported via fixed or rotary-wing aircraft, ship, truck, or train. A 2,600 square foot medical facility consisting of four (4) BLU-MED 20' x 32.5' XP Medical Shelters can be packed into (4) BLU-MED rotomold containers and stacked on a single standard 463L aircraft pallet (stacked two high and two wide).
Unrivaled, Military-Grade Medical Shelters
Unlike inflatable medical tents that require the constant running of noisy blowers to stay upright, our military-grade medical shelters feature a rigid frame system. Once set up, our medical shelters are self-standing and do not require additional supports. Compared to expandable medical containers or medical trailers, the BLU-MED XP Medical Shelter system is easier to transport (lower weight and cube) and offers larger interior floor space.
20' Expandable Medical Container (Two Sides)
Expanded dimensions: 18' 10" long x 7' 0" high (center area) / 6' 8" high (sides) x 20' 10" wide
Interior floor space: 392.36 square feet
20' Medical Trailer
Dimensions: 20' long x 8' high x 8' 6" wide
Interior floor space: 170 square feet
BLU-MED XP Medical Shelter System
Packed dimensions (BLU-MED Rotomold Container): 102" long x 49" high x 41" wide
Interior space of a 20' x 32.5' BLU-MED XP Medical Shelter: 650 square feet
A Medical Shelter Designed for Versatility
The BLU-MED XP Medical Shelter System is the Swiss Army Knife® of medical tents. The versatile and scalable design allows our portable medical shelters to be used for a wide range of applications, including:
Patient Isolation Facilities
Patient Screening and Testing Shelters
Vaccination Clinics
Temporary or Emergency Housing (for staff and victims)
Decontamination Shelters
Mobile Morgues
BLU-MED XP Medical Shelter System Options
The BLU-MED XP Medical Shelter can be configured with a large selection of options to meet your medical facility needs, including:
Side Entrances and Entry Vestibules with Bump-Through Doors
EnerLayer® Insulation System
Partitions and Privacy Curtains
Lighting Kits
Sub-Flooring System
Carry Bag System and Reusable Containers
BLU-MED Ward and Acute Care Beds
Negative Pressure Isolation System
For environments with extreme hot or cold conditions, BLU-MED's Environmental Control Unit (ECU) is a portable and military-spec HVAC system designed to seamlessly integrate with any BLU-MED medical shelter system. The BLU-MED ECU creates a temperature-controlled medical facility and will maintain a comfortable interior temperature with ambient temperatures ranging from -10˚F to +125˚F.
Self-Contained, Trailer Mounted Medical Facilities
The BLU-MED EXT Medical Trailer System is for agencies or organizations needing a self-contained and trailer-mounted medical facility, capable of being towed to nearby locations and rapidly set up to provide life-saving care.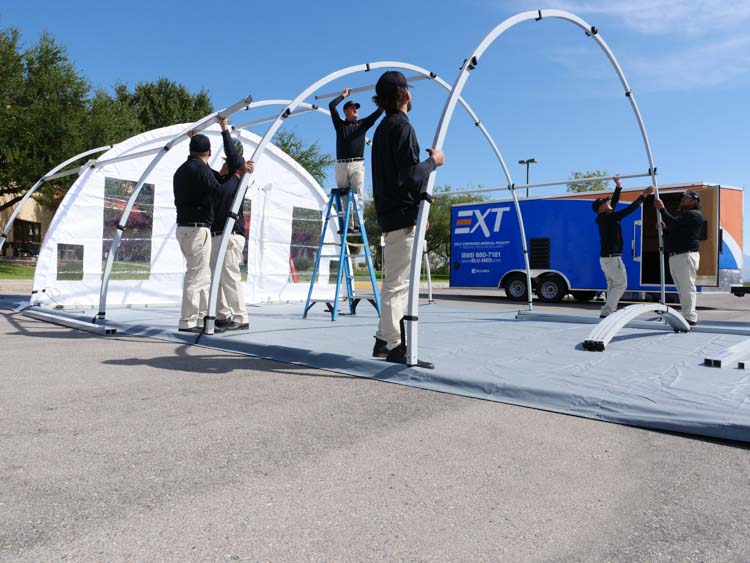 Contact us by calling +1-425-739-2795 to discuss your medical shelter needs, or request additional information by completing our online form.